day 8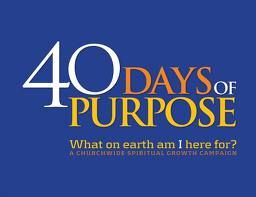 "Take your everyday, ordinary life–your sleeping, eating, going-to-work, and walking-around life–and place it before God as an offering." Romans 12:1 (Msg)
If you're having problems of feeling insignificant, lost, or without purpose, there is a direct relationship with not fulfilling your purpose. Here's why!
The first thing we fail to realize is that God was at the table when you were born, nobody saw Him, but he was there. Now, if your life was important enough for God to be at the table when you were born, I'm pretty sure you're important to him?
The Bible says, "Because of his love God had already decided that through Jesu Christ he would make us his children–this was his pleasure and purpose." Ephesians 1:5 (TEV)
It brought God pleasure bringing you into this world, and you bring God pleasure by enjoying life in this world.
"Here's a quick reminder!
God has a since of humor! God has emotions! God has feelings! The Bible evens tells us that God grieves, gets angry, and jealous; he feels compassion, pity, sorrow, and sympathy as well as happiness."
In my last post, I spoke about bringing God pleasure when you worship him. Here's what Psalms 147:11 (CEV) has to say,
"The Lord is pleased only with those who worship him and trust his love."
Nothing fancy, clear and straight to the point. In other words, anything we do that brings pleasure to God is an act of worship.
Here's what Rick wrote in his book about what anthropologists have to say about worship
Anthropologists have noted that worship is a universal urge, hard-wired by God into the very fiber of our being–an inbuilt need to connect with God. Worship is as natural as eating or breathing. If we fail to worship God, we always find a substitute, even if it ends up being ourselves. The reason God made us with this desire is that he desires worshipers! Jesus said,

"The Father seeks worshipers." John 4:23
Here's something to think about. Did you know "worship is a lifestyle?"
I use to have a misunderstanding about worship in church when the pastor would say, "it's now time to worship," and we would start singing, dancing, and whatever else.
Thinking this way, I wasn't close to the truth of worship. The fact is, every part of the church service is an act of worship. When I learned that worship has nothing to do with the style of music, the length of the prayer, or the sermon, communion or anything else, worship has to do with you. You can enjoy everything about the service.
I've go two more points for you.
Worship is not for your benefit.
Worship is not a part of your life; it is your life.
When you realize that every activity can be transformed into an act of worship when you do it to glorify God, and bring pleasure to him, worship becomes your lifestyle.
How is it possible to glorify God in everything I do? By doing everything you do as if you were doing it for Jesus, and by holding a conversation with Jesus while you're doing it. Colossians 3:23 (NIV) says,
"Whatever you do, work at it with all your heart, as working for the Lord, not for men."
If you have read the book entitled, "The Secret," here's another secret for you.
"The secret to a lifestyle of worship is doing everything as if you were doing it for Jesus." That's it!
Think about it. Work becomes worship when you dedicate it to God and perform it with an awareness of his presence.
When you do everything as if you are in the presence of Jesus, everything you do becomes worship.
Book: The Purpose Driven Life by Rick Warren